Introduction
Google Sites commenting has been a nice feature since it started using a Google Plus type format. The commenting feature, however, was restricted to Google Site owners and editors. It was a feature for viewers to use and for more general comments to be given. This, in effect, made it an awkward feature since the purpose was muddled.
Anyways, people developed work arounds using Disqus and other Google Apps Script solutions. Now, let me introduce new and improved viewer commenting capability.
Please note, viewer commenting does not mean
public
commenting. It is still the case the you cannot enable commenting for the random visitor to leave a comment on your page (leave that to your blog).
Please note, this feature is only available for Google Apps customers.
Enabling Viewer Commenting
As a Google Apps administrator, you can allow authenticated viewers in your domain to comment on your Google Apps Sites to make your sites more social. Viewer commenting is disabled by default, and when you enable this feature, each individual site owner can decide whether they want to turn on viewer commenting for their sites.
Viewer commenting is enabled or disabled at two levels:
The domain administrator allows site owners to enable or disable viewer commenting for their sites.
The individual site owners turn viewer commenting on or off for their site.
Step 1: Configuration for domain administrators
The domain administrator can enable or disable viewer commenting for the entire organization, or for an individual organizational unit by following these steps:
Sign in to the Google Admin console.
Click Google Apps > Sites > Sharing settings.
In the Organizations section, select the organizational unit for which you want to enable or disable viewer commenting.
In the Viewer commenting section, select whether to enable or disable viewer commenting.

Click Save changes.
Step 2: Configuration for site owners
Once viewer commenting has been enabled at the administrator level, a site owner can enable or disable viewer comments through their site settings:
Click the gear icon at the top of the page and select Manage site.
In the General tab check or uncheck Allow page viewers to comment.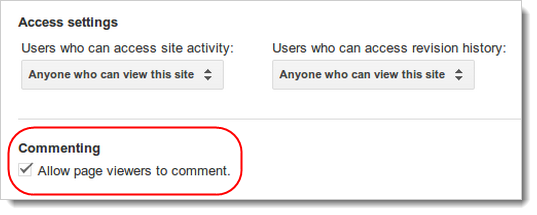 When the box is checked, authenticated users who have viewer access to the site can add their comments.
Conclusion
Why is this important? This greatly helps intranets to be more social. People can leave their comments on Announcements and there can be more of an engaging atmosphere that allows for feedback and commendation. It is an overall morale boost to Google Sites.